OUR STORY
We are a bunch of hard core foodies who happen to be Nutrition Scientists changing the rules of food making in the Indian food industry by creating the best possible concord between taste, health and nutrition.
It all started with a simple idea to craft food which is bazically delicious, made of real ingredients, have no bizzare chemicals, which provides happiness and health.
What's next? We blended our art, science and philosophy of Food into creating 'Bazic'. Currently we are baking scrumptious millet cookies which are gluten-free have no trans fat or hidden sugar.
With Bazic, we intend to revamp the Bakery Industry by using ethical food science manoeuvres and inculcating healthy snacking habits in people.
Our team of foodies find bliss in researching and reading about food labels and which is why we have been able to come up with products that will make you want for more & more & more!
Don't believe us?
Try our products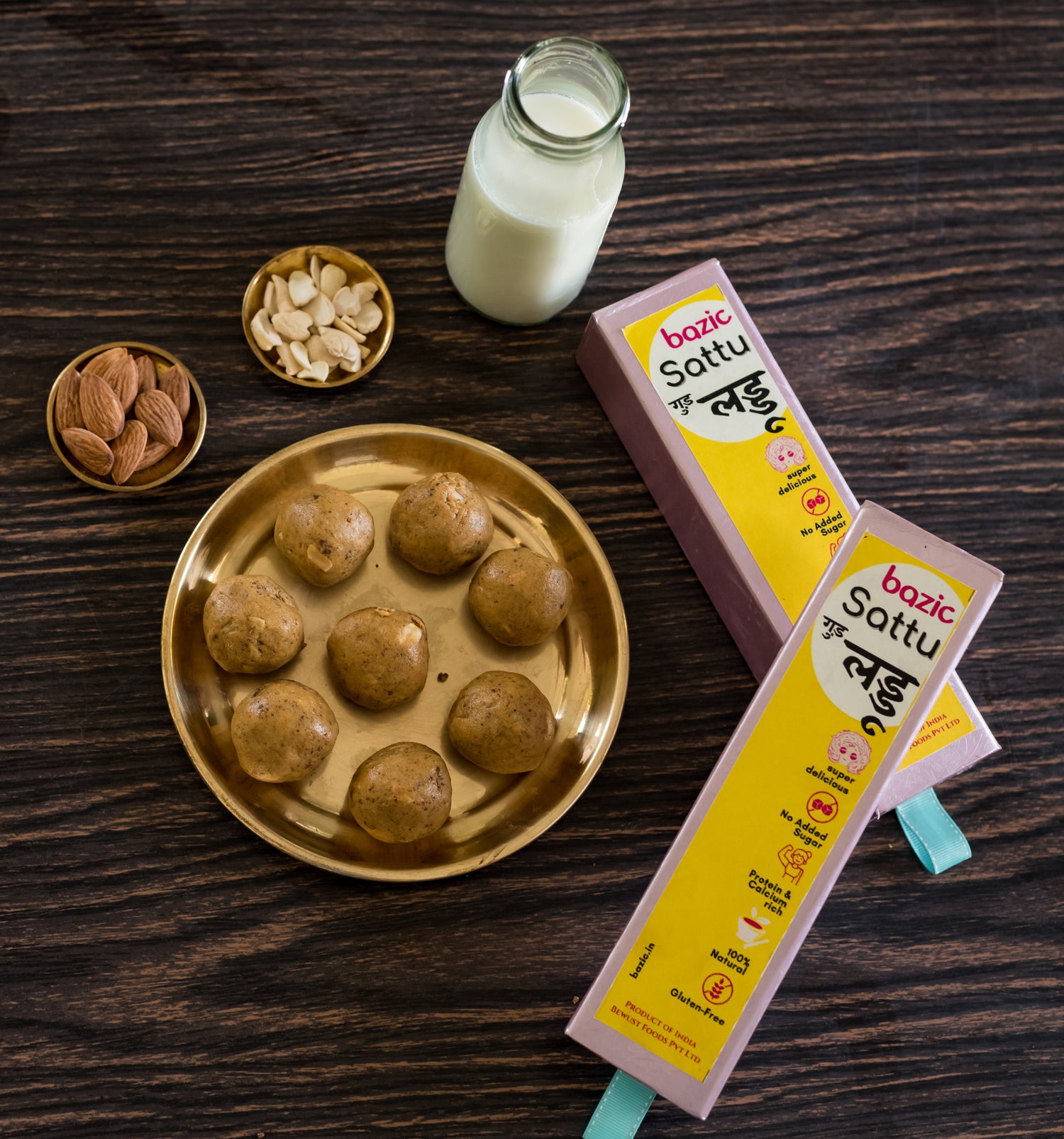 KNOW US BETTER
With our Food Science acumen, we intend to deliver products that are not just health-friendly but environment-friendly, too!
How? Let us tell you.
Bazic for People –
Each ingredient used in our products is carefully evaluated for its impact on the taste buds and health of our consumers so that they do not have to trade their health for taste & comfort.
We follow rigorous transparency in our labels so that our customers are mindful of their consumption and can make informed decisions about spending their money on our products.
We closely work with the marginal farmers and derive our key ingredients like Jowar, Ragi & even Jaggery from their land by providing them with carefully selected seeds. This ensures that the ingredients that we use are top quality.
We bring to the table a beautiful combination of Agriculture, Ayurveda, Nutrition Science and Food Tech!
Bazic for Planet –
The processes and technologies we imply in our food craft is carefully chosen. We do not want our science to be responsible for environmental deterioration in any possible way.
Simply put, we want to create food that is bazically pro-people and pro-planet.
Try our products
MEET OUR TEAM!
Tanu Shree Singh(Co - Founder)

Originally from Lucknow, Tanushree came to Rajasthan for her Master's Degree. She went ahead and completed her Government-Funded Research on Bajra (Pearl millet). She is a proud holder of a Gold Medal and National Fellowship in Foods and Nutrition. Tanushree has worked in various states of India and her work experience ranges from being a Dietician at an internationally acclaimed corporate hospital to a Research Fellow & Lecturer in various government organizations. She describes herself as a hardcore foodie, research enthusiast and an avid reader of Clinical Nutrition.

Sonia Grover(Co - Founder)

Sonia hails from Punjab and is a trained dietician from the All India Institute of Medical Sciences, New Delhi. She loves to bake and inher free time, she can be seen experimenting with new recipes. Fun Fact: For the longest time. She wanted to have her food truck!

Reema Rathore(Co - Founder)

Reema born and brought up in Rajasthan has always been passionate about Food Science.She holds a Doctorate Degree in Food Science and has an extensive background in Research with many publications to her name.